Stepping off the CityLink coach at the Tarbet Hotel, the first thing you realise is that it's right by Loch Lomond, the biggest, and most accessible, of Scotland's lochs. Before exploring further towards the lovely village, Arrochar, a short walk to the Loch shore is in order to take in the magnificient views. Even at mid-day, I arrived around noon on one of the brighter days that November, the clouds were still hanging low over the south end of the Loch. Across to the other side, you might catch a glimpse of the Ben Lomond peak, and of course the small boats used by the lochside hotels and their guests.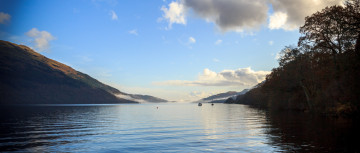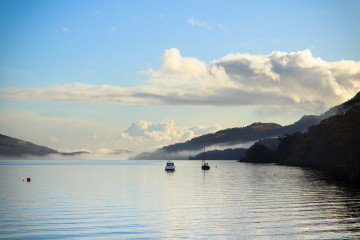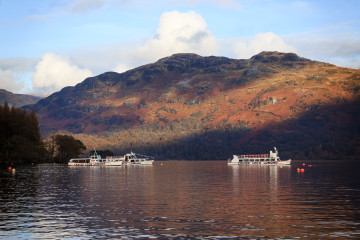 After taking in these pretty views, I started my walk to Arrochar, the village proper. The path first follows the main road that splits of from the A82 in Tarbet, to go through the village and the Arrochar Alps, reaching Inverary on the other side of those mountains. Passing the station (Arrochar and Tarbet, half-way between the two villages) and a small railway bridge over the road, you might also see a West Highland Line train just in the fields to your left. There are many paths crossing the fields and inviting you onto more mountainous tracks, but with the limited time, and the more and more gray skies, I stuck to the road until I reached the village.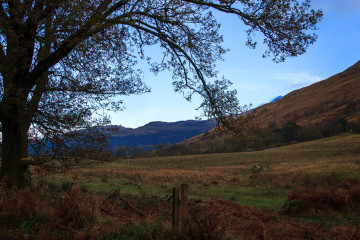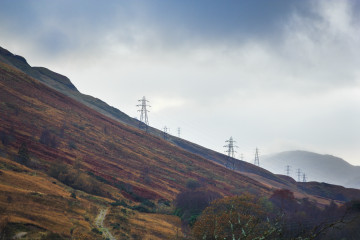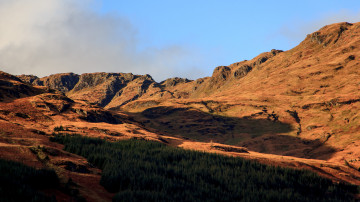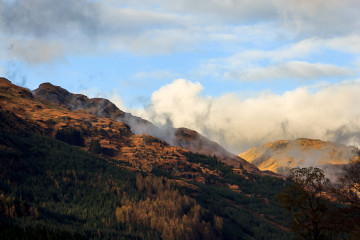 With the village surrounded almost entirely by mountains, the afternoon sun revealed some beautiful ridges to the north, and as it was setting at the opposite end of the loch, caused some pretty layers and reflections.
I was very lucky to spot the moon rising just above the Ben Lomond Peak.
Finally, on my way back to the Tarbet bus stop, I was very lucky to spot the moon rising just above the Ben Lomond peak, on the opposite shore of Loch Lomond. The evening light of the setting sun, and the autumnal colouring of the vegetation combined to make my favourite picture of this trip, a view of Ben Lomond from just off the road between Arrochar and Tarbet.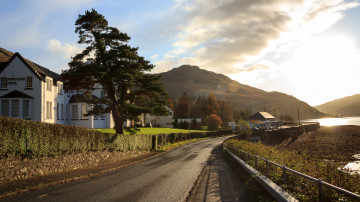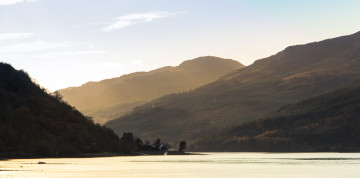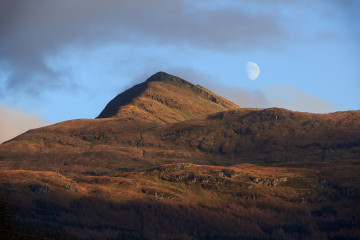 Trip Details
The area can be reached easily by bus (CityLink coaches from Glasgow Buchanan Bus station) and the train station, Arrochar and Tarbet, is on the West Highland line (Glasgow - Crianlarich - Oban / Fort William). Trains and buses from Glasgow take about an hour and a half, running multiple times a day.
There are many walks signposted from a free car park at the head of Loch Long in Arrochar, which invite further exploration.
I visited in early November 2011, taking the coach arriving at the Tarbet Hotel around noon and leaving around five in the afternoon.